KEYNOTE SPEAKERS

Julie Bonhomme
EFPIA Legal & Compliance Director, European Federation of Pharmaceutical Industries and Associations (EFPIA), Brussels, Belgium

Rachel Cooper, LLB, MSc
Director, Pharmaceuticals & Healthcare Programme, Transparency International UK, Former Head, Government Relations, World Vision UK, Former Vice Consul, British Embassy, Copenhagen, Deputy Head of Mission, British Embassy, Bratislava, Deputy High Commissioner, Freetown, London, UK

Holger Diener
Managing Director, Association of Voluntary Self-Regulation for the Pharmaceutical Industry ("FSA"), Member, Ethics and Compliance Committee and Vice Chair, Code Committee, EFPIA, Member, IFPMA Code Compliance Network, Berlin, Germany

Robert I. Dodge, JD
Assistant Director, FCPA Unit, US Securities & Exchange Commission, Former Assistant U.S. Attorney, US Attorney's Office, Western District of Michigan, Former Assistant Section Chief, Environmental Defense Section, US Department of Justice, Washington, DC, USA

Emmanuel Farhat
Agence Française Anticorruption (AFA), France, Paris, France

Abhiroop Gandhi
Trust and Compliance Officer, Verily Life Sciences (an Alphabet company), Former Vice President, Corporate Compliance, Mallinckrodt, San Francisco, CA, USA

Dimitra Lempesi, LLM, MBA
Legal Director, SFEE (Hellenic Association of Pharmaceutical Companies), Athens, Greece

Sofie Melis
Head of Ethics and Compliance, International Federation of Pharmaceutical Manufacturers and Associations (IFPMA), Geneva, Switzerland

Arthur Muratyan, Esq.
Secretary General, International Society of HealthCare Ethics and Compliance Professionals (ETHICS), Chair, MedTech Compliance Network, Former VP-Head of Legal Corporate, and Global Compliance Officer, Sanofi, Paris, France

Guido Palazzo, PhD
Professor of Business Ethics, Department of Strategy, Globalization and Society, University of Lausanne, Lausanne, Switzerland

Piergiorgio Pepe, MA EU Law
President, Quantum Ethics, Ethics and Compliance Lecturer, SciencesPo, Former Compliance Director Western Europe & Canada, AbbVie, Former Director, Compliance & Ethics EMEA, Bristol-Myers Squibb, Paris, France

Rami A. Rajab
Chairman, Mecomed Medical Technology, Association Middle East & Africa (MECOMED), Chairman, LIFE (LivaNova International Fellowship), International Corporate Social Responsibility, Former VP Market Access, Emerging Markets, LivaNova, Maidenhead, UK

Harout Semerjian, MBA
Executive Vice-President & Chief Commercial Officer, Ipsen, Former Senior Vice President and Global Launch Lead, Ribociclib, Novartis Oncology, New York, NY, USA

Heather Simmonds
Director, Prescription Medicines Code of Practice Authority, London, United Kingdom

Professor N. Craig Smith
Chaired Professor of Ethics and Social Responsibility, INSEAD; Academic Director, CSR & Ethics Research Group, INSEAD Social Innovation Centre, Fontainebleau, France

Christopher L. White, JD
Chief Operating Officer & General Counsel, Advanced Medical Technology Association (AdvaMed), Washington, DC, USA
FEATURING PRECONFERENCE SESSIONS
Precon I: A Workshop on Practical Case Studies & Exercises in Ethics & Compliance

Precon II: Advanced Investigations
PLENARY SESSIONS
International Pharma Congress Vision and Overview

Keynote Address: Pharma Executive

Compliance Issues Raised by Pharma & Device New Business Models

Global Compliance Codes Update

Annual Chief Compliance Officer Roundtable

Keynote Address: Transparency International

Annual Anticorruption Roundtable

Update on the new French Sapin II Law

Annual FCPA Update Roundtable

Multi-jurisdictional Anticorruption Investigations & Prosecutions

Ethics and Compliance Keynote Address

The Emerging Role of Technology Companies in Life Science

IFPMA Global Compliance Updates

AND CONCURRENT MINI SUMMITS
Annual Medical Device Ethics & Compliance Roundtable

Digitalization of Compliance

Data Privacy, Consent Management and GDPR Update

Ethics & Compliance Issues in Patient Relationships

Annual Central and Eastern Europe (CEE) Compliance Update

Annual Middle East Africa (MEA) Compliance Update

EU & US Whistleblower Updates

Using Risk Assessment to Design Compliance Programs

Analytics with Reference to Transparency & Monitoring

Improving the Future of Compliant HCP Engagements

Reducing FCPA Exposure through Better Use of Data

Compliance Issues in Manufacturer Relationships with Foundations

Behavioral Science to Enhance Effectiveness of Compliance Programs

Third Party Due Diligence and Management

Structuring an Efficient Digital Compliance Framework

Auditing and Monitoring Workgroup

R&D and Clinical Trials Compliance Workgroup

Working with in-company Business Partners Workgroup
FEATURED FACULTY

Pablo Rojas Abad, LLM
Manager, Legal and Compliance, MedTech Europe, Brussels, Belgium

David Andersen
Partner, Pharmaceuticals and Life Sciences, PwC, London, UK

Michael Bartke, PhD
Director Ethics & Compliance, Alexion, Former Director Compliance Management, Daiichi Sankyo Europe GmbH, Strategic Committee, ETHICS, Munich, Germany

Ann Beasley, JD
Director, Life Sciences Regulatory & Compliance, Navigant; Former Senior VP, CCO, Biogen, Boston, MA, USA

Thomas W. Beimers, JD
Partner, Hogan Lovells; Former Senior Counsel for Administrative and Civil Remedies, Office of the Inspector General, Department of Health and Human Services; Minneapolis, MN, USA

Maike Bermüller
Senior Legal Counsel and Global Healthcare Compliance Officer, Boehringer Ingelheim, Frankfurt Am Main, Germany

Chris van Bronckhorst
Global Compliance Director, IQVIA, The Hague, Netherlands

Keith Burn
Global Investigations Director, Ipsen, Former Associate Investigator, Parliamentary and Health Service Ombudsman, NHS, Former Detective Constable, London Metropolitan Police, Amersham, Buckinghamshire, UK
Andrew Butel
Partner, Kirkland & Ellis International LLP, London, UK

Antonio Cavallaro
Compilance & Data Protection Officer, Merck Serono SpA – Italy; Former Head of Compliance, Takeda Italy, Rome, Italy

Matthew Coombs
Director, Account & Services Offering Management, Commercial Compliance, IQVIA, Former Strategic Business Director, Qforma, London, UK

Michaeline Daboul
Chief Executive Officer and Co-Founder, Medispend, New York, New York

Peter Dieners, Esq.
Partner and Head, Global Healthcare and Life Sciences Group, Clifford Chance, Co-chair, Legal Affairs Focus Group (LA FG), EUCOMED, Co-chair, Compliance Network (CN), EUCOMED, Düsseldorf, Germany

Julien Durand, MBA, PhD
Executive Director Compliance & Ethics, Amgen, Former Chief Privacy Officer and Global Technology Compliance Head, AstraZeneca, Zürich, Switzerland

Sue Egan
Director and Principal Consultant, Sue Egan Associates, Former Vice President Compliance, AstraZeneca, Great Missenden, Buckinghamshire, UK

Karen Eryou
Head, Ethics & Compliance Programs, UCB Pharma, Former Co-chair, Asia Pacific Pharma Compliance Congress, Brussels, Belgium

George Fife
Partner, Forensic & Integrity Services, EY, Former Executive Director, Compliance & Ethics, Bristol-Myers Squibb, Paris, France
Monique Fonfara-Weinberg
Compliance Manager, Boehringer Ingelheim Corporate Center GmbH, Ingelheim am Rhein, Germany

Carlo Geninazza
Senior Manager, CAWECO GmbH, Munich, Germany

Gary F. Giampetruzzi, Esq.
Partner, Paul Hastings, Former Vice President and Assistant General Counsel, Head of Government Investigations, Pfizer Inc., New York, NY, USA

Betania Glorio
Global Compliance Officer Healthcare, Merck KGaA, Former Senior Director, Legal and Compliance EMEA, Horizon, Former Senior Counsel, Regional Compliance Director, EUCAN, Pfizer, Darmstadt, Germany

Cecile Gousset
Head of Compliance Risk Assessment, Policies & Education, Global Ethics & Business Integrity, Sanofi, Paris, France

Tom Gregory, MBA
Partner, Forensic & Integrity Services, EY, Atlanta, USA

Ulf H. Grundmann
Partner, FDA and Life Sciences, King & Spalding LLP, Frankfurt am Main, Germany

Thomas K. Hauser, MA HSG, MSJ
Director, Life Sciences Governance, Risk Management and Compliance Practice, Navigant; Treasurer, ETHICS; Former Global CCO, Siemens Healthcare, London, UK

Gérald Hucky
Head Group Compliance, Sonova Group, Former Compliance Audit Manager, NameZimmer Biomet, Zürich, Switzerland

Brett Hudson, MBIM
Head of Group I&C Group Integrity & Compliance, Novartis, Former Global Program Director – Integrity & Compliance, Sandoz, Basel, Switzerland

Arielle Hung
Compliance Counsel, Merck KGaA, Darmstadt, Germany

Franziska Janorschke
Global Head Business Practices Office, Novartis International AG, Basel, Switzerland
Carl Judge
Partner, Forensic & Integrity Services, EY, London, UK

Daniel T. Kessler, MA, JD
Founder & Principal, Givon Advisors; Former Chief Counsel, Int'l Trade Controls, Pfizer; Tel Aviv, Israel

Maria Khoury, MBA, PharmD
Compliance Officer Levant, Roche, Chair, Lebanese Group of International Pharmaceutical Companies and Iraq LAWG (Local Area Working Group), Beirut, Lebanon
Anita Kyung-Hee Kim-Reinartz
Partner, Forensic & Integrity Services, EY, Düsseldorf, Germany

Irith Kist, LLM, CIP/M
Functionaris Gegevensbescherming/ Data Protection Officer, The Netherlands Cancer Institute, Amsterdam, The Netherlands

Katharina Kneisel, MBA
Senior Manager Corporate Compliance, Fresenius SE & Co. KGaA, Bad Homburg vor der Höhe, Hessen, Germany

Tomasz Kruk
Head of Compliance, Vifor Pharma, Switzerland

Chrystel Lanxade
Regional Compliance Officer, Europe Middle East Africa, Alcon; Former Head of Legal & Compliance Alcon France; Former Legal & Compliance Head Novartis Consumer Health France, Former Legal Counsel, Leem, Cointrin, Canton of Geneva, Switzerland

Aline Lautenberg
General Counsel and Director Legal & Compliance, MedTech Europe, Brussels, Belgium

Edoardo Lazzarini, PhD
Healthcare Compliance Consultant, Former EuCan Ethics & Compliance Initiatives Director, Takeda Pharmaceuticals, Former Compliance Officer EMEA (Europe, Middle East & Africa), Zimmer Biomet, Milan, Italy

Martina Leposa
HealthCare Compliance Officer, Janssen-Cilag Ltd. (a Johnson & Johnson company), Chair, Compliance Committee, Association of Innovative Pharmaceutical Manufacturers, Budapest, Hungary

Carlos Romero Lopez, LLB, MBA
Head of Compliance Healthcare South Europe, Merck Group, Madrid, Spain

Michael K. Loucks, JD
Partner, Skadden Arps LLP, Former Acting United States Attorney, District of Massachusetts, US Department of Justice, Washington, DC, USA

Paul J. Melling, JD
Founding Partner, Baker & McKenzie – CIS, Limited, Moscow, Russia

Laetitia Ducroquet Minel
Senior Director, Ethics & Compliance, Ipsen, Boulogne-Billancourt, France

Laura Nassar, PharmD
Head of Compliance Middle East, Roche Pharmaceuticals, Chair, Compliance Committee, Pharmaceutical Research, and Manufacturers Association, Gulf (PhRMAG), Beirut, Lebanon

Michael O'Connor, MS
Vice President of Compliance Technology, Porzio Life Sciences, LLC, Former Global Head Compliance and Ethics Operations, Alexion, Former Executive Director, Global Head, IS Business Consulting, Boehringer Ingelheim, New York, NY

Nicola Orlandi
Head, Data Privacy Pharma, Global Privacy Office, Novartis International AG; Former Head of Legal and Compliance, Sandoz S.p.A., Basel, Switzerland

Minal Patel
Health Care Compliance Officer, Pharma and Consumer, Johnson & Johnson, Johannesburg Area, South Africa

Marie-Claire Pickaert
Former Deputy Director General, Chief Financial Officer and Ambassador to the Medical Communities, European Federation of Pharmaceutical Industries and Associations (EFPIA), Brussels, Belgium

Madina Plieva, PhD
Legal and Compliance Head, Russia, Bristol-Myers Squibb, Former Legal Director, Association of International Pharmaceutical Manufacturers (AIPM), Former Head of Legal Department, Kutafin Moscow State Law Academy, Moscow, Russia

Mario Prohasky
Global Compliance Consultant, IQVIA, London, UK

Ariadna Quesada, MSJ
Law, Ethics and Compliance Officer, The Netherlands, AbbVie; Former Compliance Manager International, MicroPort Orthopedics Inc., Amsterdam, Netherlands

Alexander Roussanov, LLM
Counsel, Life Sciences, Hogan Lovells, Former Legal Adviser, European Medicines Agency, Brussels, Belgium

Giuseppe Saporito, LLM
Global Legal & Regulatory Expert, IQVIA, Milan, Italy

Antje Petersen Schmalnauer, JD, LLM
Group General Counsel, Sonova Group; Former Interim Vice President Legal and General Counsel, Kautex Textron; Former Global Compliance Officer and Data Protection Officer, Biomet, Zurich, Switzerland

Leonardo Silva, LLM
Global Compliance Officer, Head of Global Compliance, Ferring, Former Head of Compliance, Acino Group, Former Compliance Director, Emerging Markets, Takeda, St. Prex, Switzerland

Ruth Sturm
Legal & Compliance, SHS LC CO, Siemens Healthcare GmbH, Erlangen, Germany

Ioannis Talaslis
Compliance Excellence Manager, Merck Serono GmbH, Darmstadt, Germany

Kathy Tench, MS
Director, Life Sciences Compliance, KPMG Switzerland, Former Senior Director of Compliance, Optimer Pharmaceuticals, Zürich, Switzerland

Eirini Tsotra, MS, CIPP/E, CIPM, CISA
Director, Privacy & Data Protection, Ferring International Centre SA, St-Prex, Switzerland

Tamara Tubin
International Compliance Director, Corporate Compliance, Wright Medical Group N.V., Vice Chair, Ethics & Compliance Committee, MedTech Europe, Member, Strategic Committee, ETHICS, Zürich, Switzerland

Katharina Weghmann, MBA, EdD
Associate Partner, Forensic & Integrity Services, EY, Düsseldorf, Germany

Mariusz Witalis
Partner, Forensic & Integrity Services, EY, Warsaw, Poland

Niels Wohlwend, Master of Law (lic iur), MAES
Senior Director Healthcare Compliance (HCC) Europe & Canada, Celgene, Member, WFPIA Ethics & Compliance Committee, Former Global Head of Compliance, ACINO, Former Head of Compliance APAC, LATAM and MEA, Mundipharma, Boudry, Canton of Neuchâtel, Switzerland

Elisabethann Wright, LLB
Partner, Hogan Lovells, Former, Senior Legal Officer and Hearing Officer, EFTA Surveillance Authority, Brussels, Belgium
2019 GLOBAL PHARMA COMPLIANCE CONGRESSES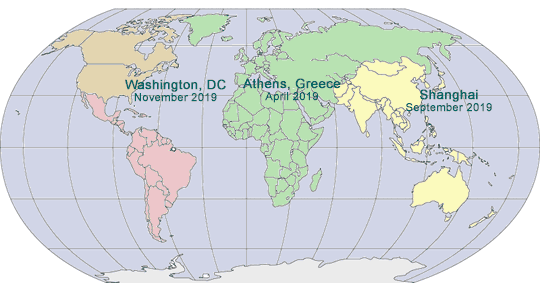 THIRTEENTH INTERNATIONAL PHARMACEUTICAL AND MEDICAL DEVICE COMPLIANCE CONGRESS
Sponsored by International Society of Healthcare Compliance Professionals (ETHICS)
Media Partners: Policy & Medicine Compliance Update and Rx Data News
April 8 – 10, 2019
Grand Hyatt Athens
Athens, Greece
www.InternationalPharmaCongress.com

NINTH ASIA PACIFIC PHARMACEUTICAL AND MEDICAL
DEVICE COMPLIANCE CONGRESS
Sponsored by Asia Pacific Healthcare Industry Compliance Team
Cosponsored by International Society of Healthcare Ethics and Compliance Professionals (ETHICS)
Media Partners: Policy & Medicine Compliance Update
September, 2019
Shanghai, China
www.AsianPharmaCongress.com

TWENTIETH ANNUAL PHARMACEUTICAL AND
MEDICAL DEVICE COMPLIANCE CONGRESS
A Hybrid Conference and Internet Event
Sponsored by Pharmaceutical Compliance Forum
Media Partners: Harvard Health Policy Review, Health Affairs, Policy & Medicine Compliance Update and Rx Data News
November 6 – 8, 2019
Mandarin Oriental
Washington, DC
www.PharmaCongress.com